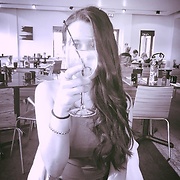 Jessiekate21
Jess, 23 y.o.

Who wants to do snail mail with a pirate? 😂
- updated Feb 21, 2018
Speaks

Joined 1 year ago, profile updated 1 month ago.

Displaying posts 1 to 10 of 19.

stripy-penguin
28, Plymouth, United Kingdom

We are the land of the pasty

hello Jess
hoe are you ? hope you are fine an doing well
i am Hamad from Oman nice to meet you
how is your life going on there

Hello :D
I'm not pirate!
I'm stark , do you wanna join with us for fight with white Walker ? :D

selenophilex
24, St. Gallen, Switzerland

hey there! how are you today?:)
i meant the pirate xD what accent does spongebob have 0.0
my favorite movie even though im already 18 <3 :D xD you have that similar accent?
are you ready kids? aye aye captain, who lives in a pineapple under the sea? :D

yasir1994
25, Medan, Indonesia

hai, i'm yasir and i'm very interesting to learn english. would you help me to learn ?
i'll be so happy if you can help me. and we can be a friend

Our accents sound like we're just bad guys. Even kids...