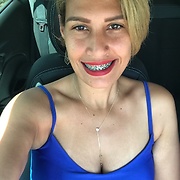 Joocih
Joci, 35 y.o.

Speaks
Learning
Looking for
Friends
Language practice
Meeting in person
Postal pen pals
Education
Graduate degree

Joined 1 year ago, profile updated 1 year ago.

Displaying posts 1 to 5 of 5.

Hello, I am good. What ages do you teach?


Hello. You are a very nice and sweet lady. And beautiful also!

Joocih
35, Porto Velho, Brazil

I want to improve my English and learn French, I can help with portuguese or English!!😃