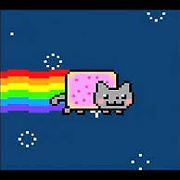 Displaying posts 1 to 10 of 19.

federone
68 , Rome , Italy

Hello... Are you a NFT fan and collector too...

Hello Dear,please there is something very important i will like to discuss personally with you, I want you to reply to my email address
[email protected]
so that i can discuss with you privately,
Regards Mr Kennedy Uzoka

WeeabooSnowman
25 , Jamestown , United States

Glad to see some people are still praising Nyan Cat.

Greetings dear friend, I'm happy to have you here. My name is Vania Randyka from Indonesia but i currently live in the United Kingdom. Actually, I'm planning to take a trip to your country for a project but i do not know where to start because I have not been there before and I do not know any body there. So, I wish we can be more of friends and share some ideas. Here is my whatsapp number (+447424089253). write me urgently to know your thoughts. I will tell you more about me when once I receive your message,
Thanks.

57miranda
66 , Dzhezkazgan , Kazakhstan

russian man from kazakhstan seeks penpals in the world!collecting. i like rock. snail mail only. alex.

Justyna_285
40 , Lublin , Poland

Hello! Thank you for visiting my profile. Good luck with learning languages. Greetings! :)