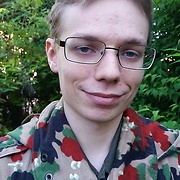 ChrisJH
Christopher, 32 y.o.

Looking for
Friends
Meeting in person
Postal pen pals

Joined 4 years ago, profile updated 8 months ago.

Displaying posts 1 to 10 of 14.

Babloo-Babloo
44, Chandigarh, India

Hi my friend:) I hope u r in good health:D Greetings from Himalayan Mountains:D
livanov111
48, Tucson, United States

What's new in the world of physics?
Tommyh3131
26, Blackpool, United Kingdom

you got skype? :) i have a skype group if you would like to join it?
Gray805
31, Thousand Oaks, United States

Do you play any instruments?

Hey welcome from England lets be good friends now

Hello from down the valley