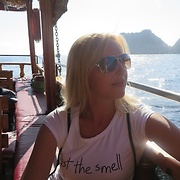 Displaying posts 1 to 7 of 7.

laichenabil
43, Algiers, Algeria

hiiiii ..wanted to come by and say....hey,nice woman !...lol...anyway,i hope life and your day is treating you very sweet....and hope to talk you when you have a chance...may you be sweetly blessed and favored. xx 🌽,🍌,🍆.💄


gnaga
35, Bingerville, Ivory Coast

cc salut moi je suis Romy nouveau sur le site, je suis ivoirien, coiffeur sincèrement vous êtes loin de chez moi mais j'aimerais faire votre connaissance passer le temps sur skype ou fb a discuter et mieux faire connaissance si cela ne vous dérange pas cas j'aime vraiment votre profil et je suis attiré par votre photo .merci a bientôt j'espère je laisse mes contactes suivants.!!!!
skype: gnaga.romeo
fb : romy ferrari gnaga
cordialement !!!!!
but_Im_Italian
32, Kraków, Poland

Hi! What do you do? Work, study or you are already millionaire and don't need to do anything? (In the last case you must surely be a fantastic person! Of course not because of the money eh :D