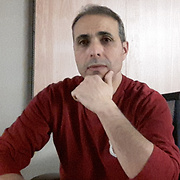 Displaying posts 1 to 6 of 6.

JR61
62 , Lisbon , Portugal




WhatsApp? Cheers to you too!


I'm bilingual since childhood. I could help you out. (I'm a Portuguese native)


Igorek1968
55 , Shevchenkove , Ukraine

Hello. I would like to conversation with you. My name is Igor. I learn English. My native language is Russian and Ukrainian. I am 49 years old, I live in Ukraine in the Kharkov region.
I studied English independently by my method - listening to songs. I decided to try to communicate live with native speakers.
Here is my page with these songs that I studied - https://vk.com/club98705697.
Recently, I began to edit the video clips of my favorite groups inserting subtitles in Russian and English.
This is my page in the Russian social network (Вконтакте) Vkontakte - something like Facebook, all our young people do not climb out of it. Well, I'm storing my favorite music there - https://vk.com/audios172179605. I adore synth music.
Wel..., something like this...
[email protected]