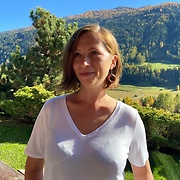 LudmilaK
Lyudmila, 37 y.o.

Learning
Looking for
Friends
Language practice
Meeting in person
Education
Graduate degree
Relationship status
Married

Joined 7 years ago, profile updated 1 month ago.

Displaying posts 1 to 7 of 7.

Vollste Unterstützung für die Ukraine! Es ist wirklich heldenhaft, wie tapfer ihr euch verteidigt und den russischen Terroristen die Stirn bietet. 💙

Laatst gelezen Zoelajcha otkryvajet glaza, debutroman van Guzel Jachina...indrukwekkend!

Arunawajira
40 , Kandy , Sri Lanka

Hello to world
Greetings from Sri Lanka I am Aruna
Very happy to see your profile and glad to share here thing to there too
Hope your family and you doing well this bad pandemic period too.
TasHoedBalStep
25 , Rotterdam , Netherlands

Hallo, wil jij me helpen?

wajira2009
41 , Kandy , Sri Lanka

greeting from sri lanka how are u ?

hi,how's work and family?