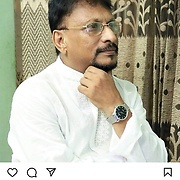 Sumon34l
Md. Shahidul Islam, 50 y.o.

Speaks
Learning
Looking for
Friends
Language practice
Meeting in person
Postal pen pals
Flirting and romance

Joined 14 years ago, profile updated 2 years ago.

Displaying posts 1 to 10 of 23.
MsRJ
62 , Atlanta , United States

Greetings from Atlanta, thanks for viewing my profile.

Greetings from New Zealand ☺️

elena_4
52 , Moscow , Russia

thank you so much my dear :)))) hug

JonJonJon
46 , Melbourne , Australia

hi sumon,
thanx that you are interested in me.
I guess i would like to say now is,
Isnt it amazing that people can talk on other sides of da world?
Anyhow hope you are happy....
You know,
I have spent much hours looking for friends i once knew, and it seems that it is hard to let go of people who that we hold dear.
I miss my two dearest friends from india and bangladesh and have been at a loss to find them online. I prey i will find them soon..
When i was growing up, i didnt know how much it hurt to lose a friend but now i am learning the value of a friendship.
I think if my heart is pure i shall find its wishes...
Anyway a little about me.
I have studied civil engineering and am currently sitting for a license to operate a earth-mover.
It is hard to find work and i am developing skills to make myself more employable.
I too think you have an excellent profile..
Why say too much personal ...
The photo of you is very cosmopolitan and it makes me think you are smart.
I dont have traditional clothes and just dress casual.
I hope you are not royalty though as it is much simpler to be a regular guy.
Now you can see i dont know too much about anything but i hope you dont mind..
In the past i had a friend who knew i was this way an indian and very bright intellectually...
Nevermind,
Write me if you like to talk about particular.

Onetartar
45 , Samut Prakan , Thailand

Hi...
Thanks! your visited my profile. I'm from Thailand and want to make friends here same you.
Have a great day!


Lotus108
57 , Cape Town , South Africa

Greetings from South Africa !

JimMark
68 , Franklin , United States

Good sir. The stories are on their way to you.