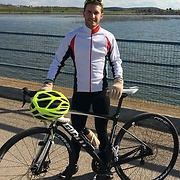 Displaying posts 1 to 10 of 10.

Kote19
39, Voronezh, Russia

Добрый день, Эстебан! Как дела? Какая помощь тебе нужна в изучении русского языка? Ты любишь футбол? И ещё один вопрос: Real Madrid or Atlético or Getafe)?

Napas26
24, Sydney, Australia

Saw that A Day to Remember is one of your favourite music, so what's your favourite song from them? btw they are my favourite too! :D
livanov111
48, Tucson, United States

How long have you participated in Triathlons? I just started last year. I can help you practice English if you can help me practice Spanish. Good luck with your races and English!

ca880105
22, Taipei, Taiwan

hello :) I'm from Taiwan XD I'm 19 years old, would like to chat with you :) I can't speak Spanish and English isn't fluency either, just let you know before we start to make friend XD if you don't mind, let's have a nice conversation XDDD
and I wish all the best for you :) have a nice day :))

Telephousia
24, Montréal, Canada

Hello! My name is Delia. I'm from Canada, and I can help you practise English.
My father is also from Spain :)))

Hola, Esteban! Al parecer te gusta mucho el ciclismo, has participado en grandes rutas? Saludos :D


eli124
33, London, Canada

Greetings from Canada! I'd be happy to help you with your English!