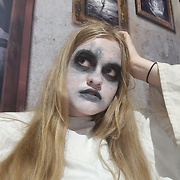 cartoontili
Katya, 23 y.o.

Learning
Looking for
Friends
Language practice
Meeting in person
Postal pen pals
Education
Graduate degree
Relationship status
In a relationship

Joined 7 years ago, profile updated 2 years ago.

Displaying posts 1 to 9 of 9.

Honestguy1
24 , Tunis , Tunisia

If you don't know who you are ... i think you asked yourself before why I'm here in this life.. start searching on answers ...if you wanna talk more about it.. text me...i will help you inchallah...be care peace ✌️

Good Morning from Uganda and OSAWO

Nice to meet you. I can help you practice English if you help me practice russian. What activities you like to do in your free time?


Nanyyy
23 , Cluj-Napoca , Romania

I had to read it a few years ago at school (of course, since it's a classic French book :D) but I didn't like it :p

Nanyyy
23 , Cluj-Napoca , Romania

Really, "Les Misérables" from Victor Hugo is one of your favorite books? :o