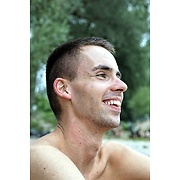 jesuisdanny
Daniel, 24 y.o.

Looking for
Friends
Language practice
Meeting in person
Postal pen pals
Education
Bachelor's degree
University of education in Linz
Relationship status
Single

Joined 8 months ago, profile updated 3 years ago.

Displaying posts 1 to 10 of 56.
Brentus
29, Adairville, United States

Hey Daniel! Things are going fine -- as fine as they can be while in quarantine. lol. I hope you're doing well too!

alandayniel
22, Cândido Mota, Brazil

Hello Daniel!! I just found your profile on someone's wall and you got my attention 😅

my man I appreciate it bro👍

Darenator
28, San Diego, United States

it certainly was my pleasure :)

Antolope
28, Parramatta, Australia

Thanks! How goes it all the way in Austria?? :D