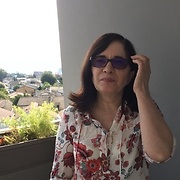 Displaying posts 1 to 10 of 37.

Dilip1993
28, Mumbai, India

Hello I am Dilip from India
I am a marine engineer .
How are you doing.

jorogex
55, Nairobi, Kenya

Hi dear,I would like to interact with you.Thanks.

lubks
68, Liberec, Czech Republic

Bonjour Nan,
je viens d´apprendre que vous avez regardé mon profil.
Je serais très heureux de faire la correspondance avec vous mais par e-mail, pas de "mur". Si vous êtes intéressée, dites-le moi. Ensuite je vais vous dire mon adresse e-mail .
Merci d´avance pour votre réponse.
Amicalement.
Lubomir

lubks
68, Liberec, Czech Republic

Bonjour,
Je suis un homme, j'habite en Tchèque, à Liberec, c´est une ville à environ de 120 kilomètres de Prague.
J´ai 69 ans et je suis marié.
J´apprends le français depuis plusieurs années et je voudrais le perfectionner.
J´aime les films, les sports à la télévision, la littérature, la musique - presque tous les genres.
J´attends avec impatience votre réponse.
Amicalement
Lubomir

PrairieCrocus
63, Winnipeg, Canada

Hi from Carol in Canada I would be happy to chat with you

Hello I am keen to communicate with you .
I am a retired Engineering professional and is fond of music , poetry , reading classified topics, and travelling .
Teaching is my hobby and I enjoy it .
Please reply if that interests you .
Basudev
arnoldjoshua
23, Kampala, Uganda

Hello, nice to meet you
I'm so pleased to visit by your profile
Greetings from Uganda
I look forward to hear from you