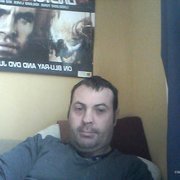 penpalfinder02
Philip, 33 y.o.

Speaks
Looking for
Friends
Flirting and romance

Joined 8 years ago, profile updated 5 months ago.

Displaying posts 1 to 10 of 33.

TaffyKat
37, Auckland, New Zealand

hmm yeah I think its pretty easy I mean every marriage will have disagreements just like any relationship (friends, mother/child etc)... if my husband and I didn't love each other then we wouldn't be together... time is precious, you only have one life so enjoy it :)

TaffyKat
37, Auckland, New Zealand

well that's a random question :P I've been married 8 years and I had my kids after...

Hello :) Nothing much . . . The French? My dad XD

My boyfriend is 28 and my daughter is 6

Yeah I have a boyfriend at the moment. I live with my family and have one brother and one sister.

Central midfielder / Striker for soccer and opening bowler and batter for cricket. Yeah i've stayed in a few places, Auckland, Queenstown, Milford Sound, Arthurs Pass, Dunedin, Keri Keri, Australia. Probably some more but can't really remember. I enjoy getting outside, going for a hike or camping.

I'm Hayley, studying human biology and working towards becoming a personal trainer. I enjoy pretty much all sports. Have played soccer and cricket for over 13 years now. Born and raised in christchurch, never lived anywhere else. Very proud Cantabrian!

I'm in between a few suburbs, its a weird area. I'm close to the airport. I'm on this website because i'd like to meet people from all over the world and learn different cultures. Also am interested in learning a few new languages. How about yourself?

Hey I'm good thanks! I'm in northern christchurch and my house handled everything pretty well. No major damage thankfully.

metal5kunk
25, Sarasota, United States

I have gauges.
No I don't
and yes i have.