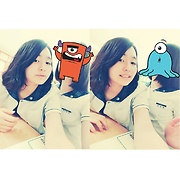 BaekWH
WooHwa, 22 y.o.

Looking for
Friends
Flirting and romance

Joined 7 years ago, profile updated 1 year ago.

Displaying posts 1 to 10 of 15.

Liquid_Ibizai
23 , Singapore , Singapore

I am Edwardpan from China,16 in the high school.Here I want to make friends with talkive people.Are you talkive?Yeah,it is better if we have more common topics .So would you mind being my freind?



Nice to meet you. My name is Mika. I come from Thailand. I really like Korea. I want to be your friend.

AOMED
24 , Chiang Mai , Thailand

I'm so happy,you know? haha
you don't sleep?

AOMED
24 , Chiang Mai , Thailand

hi!! I want to be your friends ^^,"I'm Aom from Thailand