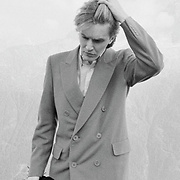 Camden
Camden, 45 y.o.


Joined 7 years ago, profile updated 10 months ago.

Displaying posts 1 to 1 of 1.

LucyLane
49, Vienna, Austria

Dear Camdon!
I am not so quiet, content, curious and optimistic. I prefer the sunlight the shades as it is my lifeblood, but everything else matches :- ) writing is my passion, painting a must, singing one way to express myself and sleepless nights are almost my daily companion. I don't own a TV myself, though I work for it (or maybe that's because).
So if you mind that once a while probably terrible mistakes are sneaking in my written thoughts as I am from Austria and my mother tongue is not English and you love to write and read almost infinitely emails, well then I would be the perfect distraction for the nights you can't sleep.
In other words: curse the darkness and let me be your light :- )
Love and light
Nasha