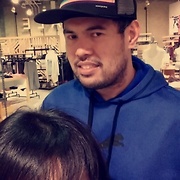 Displaying posts 1 to 10 of 2117.

nellygabriela
27, Lima, Peru

Muchas gracias y feliz navidad para ti también :)

Amigo veo que aprendes muchos idiomas! es increible, sigue asi pana! el idioma es importante yo casi no andaba por aca llevo mucho sin conectarme, alguna duda del español me preguntas chaval !!

Me alegro mucho. ¿Quñe te cuentas? :)