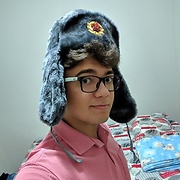 Isreally
Hide, 22 y.o.

Why italian people don't talk to brazilian people?!
- updated Sep 20
Speaks
Looking for
Friends
Language practice
Meeting in person
Postal pen pals
Flirting and romance
Education
Bachelor's degree
Relationship status
Single

Joined 1 year ago, profile updated 1 year ago.

Displaying posts 1 to 10 of 23.

Hi
You are very nice.can we be friends?