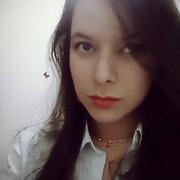 Saramir
Sam, 28 y.o.

Speaks
Looking for
Friends
Language practice
Meeting in person
Postal pen pals
Flirting and romance
Education
Graduate degree
Relationship status
Single

Joined 7 years ago, profile updated 2 months ago.

Displaying posts 1 to 10 of 13.

Amar2030
39, Sidi Akkacha, Algeria

muy linda y encantadora dama
Dios te bendiga a ti y a tu familia

CoffeeAddiction
49, Dunedin, New Zealand

Hellooooooooo from New Zealand!
kazutaka_osanai
45, Sapporo, Japan

こんにちは〜!!
私はあなたに、日本語を教えることができます!!
学んでみませんか?

Hi nice to meet you welcome to Dubai i hope u like
LORDFEM
32, Ado Odo, Nigeria

How are you doing? Would love to know you better. Maybe we could exchange messages about our cultures and environment..

Hi Sam,,
Greetings from Australia.
Lester