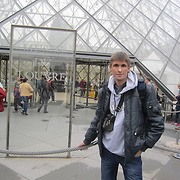 Vladyslav
VLAD, 41 y.o.

Hasta la vista España! I'll be back! 😍🇪🇸
- updated Dec 1
Learning
Looking for
Friends
Language practice
Meeting in person
Postal pen pals
Flirting and romance
Education
Graduate degree
V. N. Karazin Kharkiv National University
Relationship status
Single

Joined 13 years ago, profile updated 2 years ago.

Displaying posts 1 to 10 of 213.
TempusFugits
29, Laon, France

Hi there, you're my first contact from Ukraine. I just noticed, you would write "Киiв". So in Ukrainian the letter "i" correspond to the letter "e" in Russian?
ramn
24, Murcia, Spain

Ey! It depends on your plans I can recommend you different places!

thanks for visiting bro :)

adgee96
23, Krakow, Poland

Glad to see that I'm not the only weirdo who likes "travelling" using Google Maps 😀

Thanks for passing by ! Always a pleasure !