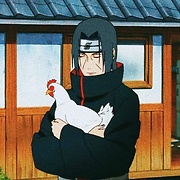 WakeAwake
Gerard, 27 y.o.


Joined 6 years ago, profile updated 5 years ago.

Displaying posts 1 to 10 of 24.
Ami_Bo
19 , Warsaw , Poland

He has some recipe in the 'About' section xD He he

noodleisgood
25 , Seoul , South Korea

hi there! Did u draw the pic of Naruto by yourself? nice one :)

Leni22
27 , Dusseldorf , Germany

Yeah, Finland :D ! I love this country :)
GreicyHuertaG
26 , Maracaibo , Venezuela

are you crazy?? hellsing 10/10 ♥

Arier_Edvolikice
27 , Fortaleza , Brazil

If you're looking for someone to teach you Portuguese, I'm here for it. I'll be glad to help.

I don't know really, I love all water type pokemon. However, I would have to say it would be Dewgong

That's cool :D
I like tea in general, and have a thing for Earl Grey.
I love Water type pokemon.

Hi bro
you wanna be friends?

Hey, what's your favorite tea to drink?
And also whose your favorite pokemon, and what type is your favorite as well?