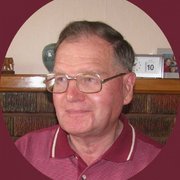 Youngrob
Robert, 85 y.o.

Speaks
Relationship status
Married

Joined 13 years ago, profile updated 6 years ago.

Displaying posts 1 to 10 of 17.
kozhikunnel
76 , Cochin , India

Hello Robert, Greetings to you from India and would like to make good christian friendship with you Daniel

Rosiecat
62 , Binghamton , United States

I like that. 3 originals to the family. Never heard it put quite like that.

Youngrob
85 , Dunedin , New Zealand

Hi Tima your settings dont allow me to reply to you


Mr_Caper
47 , Recife , Brazil

God bless you. Greetings from Brazil

Ind555
53 , Jakarta , Indonesia

Hi Robert
I'm Anna from Indonesia
I'm a Christian although I live in a country with muslim majority
I am looking for Christian friends around the world who can share about the Bible and Christian ministry
Best regards,
Anna

hello how are you doing today?