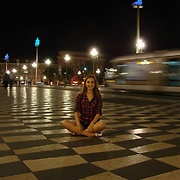 antoninushka
Antonina, 30 y.o.

Looking for
Friends
Language practice

Joined 4 years ago, profile updated 1 month ago.

Displaying posts 1 to 6 of 6.

eternalglory
28, Lyon, France

Hey Antonina!! Thanks for having a look at my profile Hope you appreciated it and next time feel free to leave a message if you want ! Have a nice evening! Cheers!!

Greetings from Turkey... Welcome to Interpals



You made a typo. :P "...and would like to improve..."
Just warning you. ^^