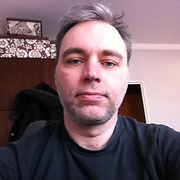 dajo78
Daniel, 42 y.o.

Speaks
Learning
Looking for
Friends
Language practice
Meeting in person
Postal pen pals
Relationship status
Single
Messaging

Joined 2 years ago, profile updated 4 years ago.

Displaying posts 1 to 10 of 16.

LauColombiana
34, Bogotá, Colombia

Heyyy long time no see you :)

kulie
41, Finschhafen, Papua New Guinea

Hi how're you?....Greetings from Papua New Guinea

I was so crazy about them when I was young.
Always love the Mellon Collie album :)

I love the Smashing Pumpkins, Hemingway, Saint-Exupery, and Robert Frost!!!

przesłuchałam 3 kawałki.. szkoda że troche ten głos zagłuszony jest przez instrumenty.. fajnie że masz pasję :-) pozdrawiam


Thanks for visit my profile. :D

Czesc
Serdecznie pozdrawiam z Luizjany:)

adoravivos
37, Pisz, Poland

aha... rada na przyszlosc: nie odpisuj na wlasnej tablicy, bo nikt tego nie zobaczy, musisz klikac na "write on his wall" ponizej komentarza na Twojej tablicy - chyba, ze dana osoba nie udostepnia komentowania na swoim profilu (procz np. zdjec i tradycyjnego PM)