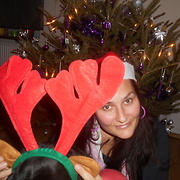 halle71
Pavla, 39 y.o.

Speaks
Looking for
Friends
Language practice

Joined 5 years ago, profile updated 8 months ago.

Displaying posts 1 to 9 of 9.
artistguy
50, Manchester, United Kingdom

Happpy New Year :) Enjoy your day and stay safe and special :)

Hi nice to meet you welcome to Dubai i hope u like

Tomik79
41, Berlin, Germany

I think of Slavic languages and their slight differences: German uses the word "bath" to put in front of a towns´name when there´s a healthy source, Polish takes a root of "healthy" and puts it behind the town like Zywiec- zdroj, and Czech takes a root of the word for "bath", "lazne"... I only know it from the Polish word for bathroom : "lazienka" :-)

DomDC
37, Dakar, Senegal

How are you friend i just read your Profile. Seems to be interesting.i Would like to be your friend


Lu1980Cie
41, Lyon, France

Hi , I am Lucie. I am French and I'd love to have a friend living in Czech Republic. I already went to Praha , Plzen , Olomouc ... I love your country
If you wish you can write an e-mail and if we get along it would be great .What do you think about it ?
Can't wait to read you. Have a lovely day
See you
Lucie