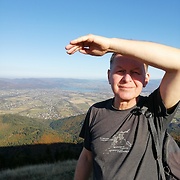 mshiszpan
mshiszpan, 58 y.o.

Looking for
Friends
Language practice
Meeting in person
Postal pen pals
Flirting and romance

Joined 11 years ago, profile updated 11 years ago.

Displaying posts 1 to 3 of 3.


Attractive_F
27, Tbilisi, Georgia

hounestly- i dont like living here and i hate georgian language espeshially old georgian language-its very hard i have to learn old georgian stories about st people on old georgian to enter univercity its very difficult- i have even to do translations from old georgian on advanced (todays) georgian

mshiszpan
58, Bielsko-Biala, Poland

I am interested in Hungarian, Georgian and Spanish;
can help you, exchange ideas, in Polish and English.