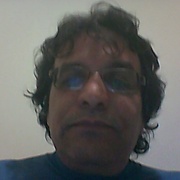 socrambhz
socrambhz, 59 y.o.


Joined 10 years ago, profile updated 4 months ago.

Displaying posts 1 to 10 of 16.
daveb68
51, The Hague, Netherlands

Hi, greetings from Holland 🇳🇱 the country of flowers 🌷 I'm Dave ☺

tamara-f
57, Murmansk, Russia

Thank you so much. IT's really new music for me. Super !

vitany
65, Murmansk, Russia

Hello
Thank you
I live in the North of Russia but i have read a lot of your beautiful country. I love books by Jorge Leal Amado de Fariа very much. And i like the Brazilian music
My real name is Zoya...


Dear friend. Thank you for beautiful gift-music I like that, espeshially the song with my name and the lasy song. Very pretty.
Solnata
51, Rostov-na-Donu, Russia

Is it a joke about Messi? I never thought that Lazarev and Messi very much alike ..Lazarev is my favorite singer ..
Why did you write on the wall?
Sina2
30, Ankara, Turkey

Thanks for your gifts. I like Yamandu Costa very much.
https://www.youtube.com/watch?v=elTjUct_1rQ
GuRoiZ
35, Vladikavkaz, Russia