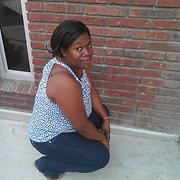 terasgirl
Terasgirl, 42 y.o.

Speaks
Looking for
Friends
Language practice
Postal pen pals

Joined 12 years ago, profile updated 9 months ago.

Displaying posts 1 to 10 of 11.

bilthepoet
60, Potomac, United States

can i have your email because i can send you poetry n you can tell me what u think
[email protected]

muhammadbwanika
41, Kiboga, Uganda

hello friend igreetings to u and iwell thanx the work uhave done iwishes to u all goodness forever meanwhile iam calls mahd kakeeto from uganda agod fearing person and honest my hobbies sports and internet surfing hope to hear from u soon


terasgirl
42, Liberta, Antigua and Barbuda

Hi all,
Check out the link below.
http://FreeLnk.in/register.php?invcod=47391
Mickey11000
51, Rodgau, Germany

Just stopped at your profile and wanted to leave a "Hello" here for you. I hope that you have a great weekend.

rajesh77
47, Chandigarh, India

-Never stop smiling, not even when you're sad, someone might fall in love with your smile & become your friend if not so your smile may add more life to him
So staaaaay smiling always

didoune25
41, Belfort, France

hello my name is adeline iam looking for penfriend for writing letters