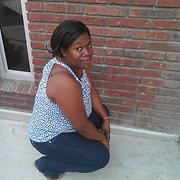 terasgirl
Terasgirl, 42 y.o.

Speaks
Looking for
Friends
Language practice
Postal pen pals

Joined 12 years ago, profile updated 10 months ago.

Displaying posts 1 to 10 of 12.

Mal1951
70, Colombo, Sri Lanka

Hi,
I am from Sri Lanka interested in having a postal pen pal from your country.
If you are interested please let me know by message or send me an email via
[email protected]
I will wait for your reply, Thanks

bilthepoet
60, Potomac, United States

can i have your email because i can send you poetry n you can tell me what u think
[email protected]

muhammadbwanika
41, Kiboga, Uganda

hello friend igreetings to u and iwell thanx the work uhave done iwishes to u all goodness forever meanwhile iam calls mahd kakeeto from uganda agod fearing person and honest my hobbies sports and internet surfing hope to hear from u soon


terasgirl
42, Liberta, Antigua and Barbuda

Hi all,
Check out the link below.
http://FreeLnk.in/register.php?invcod=47391
Mickey11000
51, Rodgau, Germany

Just stopped at your profile and wanted to leave a "Hello" here for you. I hope that you have a great weekend.

rajesh77
47, Chandigarh, India

-Never stop smiling, not even when you're sad, someone might fall in love with your smile & become your friend if not so your smile may add more life to him
So staaaaay smiling always