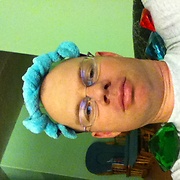 traviskj
Travis, 42 y.o.

Speaks
Looking for
Friends
Language practice
Postal pen pals
Flirting and romance

Joined 7 years ago, profile updated 6 months ago.

Displaying posts 1 to 6 of 6.

traviskj
42, Barrigada Village, Guam

Going to Mazatlán next week. If anyone wants to come along the hotel room in paid for.


Michiganguy
48, Wyoming, United States

WoW Guam.....I'd like so very much to visit there sometime. Do share more with me about Guam. Lets be pen-pals. =D

marg3nty
36, Bangkok, Thailand

sawaddeeka~ thx u for visit my profile >_~

Judy_ml
40, Singapore, Singapore

Hi, thanks for the visit. What a beautiful place you are staying at. :)