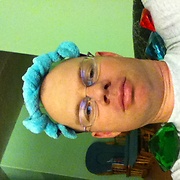 traviskj
Travis, 43 y.o.

Speaks
Looking for
Friends
Language practice
Postal pen pals
Flirting and romance

Joined 8 years ago, profile updated 1 year ago.

Displaying posts 1 to 6 of 6.

traviskj
43 , Barrigada Village , Guam

Going to Mazatlán next week. If anyone wants to come along the hotel room in paid for.


Michiganguy
50 , Wyoming , United States

WoW Guam.....I'd like so very much to visit there sometime. Do share more with me about Guam. Lets be pen-pals. =D

marg3nty
38 , Bangkok , Thailand

sawaddeeka~ thx u for visit my profile >_~

Judy_ml
42 , Singapore , Singapore

Hi, thanks for the visit. What a beautiful place you are staying at. :)