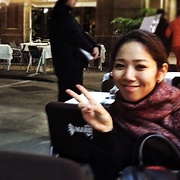 Displaying posts 1 to 10 of 12.


こんばんはー旅行が好きなんですねー今までどんな国に行きましたか?

pshakya
34, Vienna, United States

I think you will learn english very well cuz the way you write is good so you will not have a hard time...I might be lil help if we could talk as friends :-)

Hello from Taiwan:D I'm April!
I love Japan and really want to learn Japanese!
If you feel like learning Chinese or practicing English, feel free to inbox me;)))

demo50
34, Jakarta, Indonesia

Konnichiwa Yuki!!! ;). Please let me self introduction to you :)
I'm Rio 27 years old from Jakarta, Indonesia. Work and live in Jakarta, the capital city of Indonesia .
Hopefully we could do a long term friend relationship and i could helping you for improve speak an english :)
Jakarta is a capital city of Indonesia, so when you could come to Jakarta, Please let me know. For your information, Indonesia not only Bali, Bali is only a small part of Indonesia, because there are another more beauty paradise than Bali, especially Yogyakarta, there are a borobudur temple. My office located in South Jakarta. I work in advertising agency handling brand campaign in social media :)
Hopefullly from my explanation here could helping you know a basically about my country ;)

NiniBrown
35, Le Cheylard, France

Hi Yuki, i'm David from France. I'm interested in Japan, i can help you with english even if i'm not native born speaker. I like Breaking Bad and The Walking Dead, nice tv show tastes!

fernRiko
30, Khon Kaen, Thailand

hello. My name is Fern. I want to make friend with you. Nice to meet you.^^

ianrobertson86
35, Aberdeen, United Kingdom

Hi nice to meet you how's things with you today I hope you are well from ian