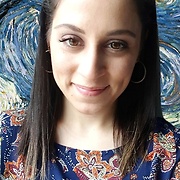 Displaying posts 1 to 10 of 25.

Don't know been watching a few different of late from Clint Eastwood films to horrors as Halloween is here but my favourite is Blade or you got mail or Shaun of the dead and riddick and you ? But joker was good

I know right had so much hope with the actor that was in it

Lol yeah that's why I like him so much and Ratched was not a fan of so much but I like her as she is from American horror story and like you said a few more but haunted manor of bly is good also bit like horror story as most of the cast is in it from season 1

End of the F#cking world is good but my favourite are family guy rick and Morty or game of thrones there is a few I watch like right now I'm watching haunting of bly manor and once upon a time in my free time 😊 yours ? Any new ones ?

The rain was good and a few other TV show you got there 😊

Jarinorska
30, Vancouver, United States

I can totally echo the sentiment about feeling alien, not belonging. Do you ever just feel so totally weird and embarrassed at yourself? If you think your profile is long-winded and killing the excitement, im sure reading mine put you to sleep lol

MenaGirges
29, Tilburg, Netherlands

Thanks for passing by and for your comment :) I replied to it btw on the pic :P so go check out the reply... :P
I like your taste in movies and tv shows btw! I've watched most of em but not all,,, I'll check the movie The Counterfeiters and if I liked the trailer I'll watch it :)
RutgerNL
29, Amsterdam, Netherlands

Selam! That would be great, it's really hard!
Your name means 'dear' or 'best' in Dutch btw :)
Görüsürüz