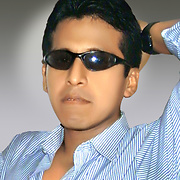 Eric2016
Eric EC, 41 y.o.

I am not the owner of the world .... but I am the owner's son .... designer, illustrator, pianist ... looking for perfection and a good rela
- updated Nov 29, 2017
Learning
Looking for
Friends
Language practice
Meeting in person
Postal pen pals
Flirting and romance
Occupation
Freelance artist - e-commerce manager

Joined 3 years ago, profile updated 3 years ago.

You must be
signed in
to view Eric2016's wall.