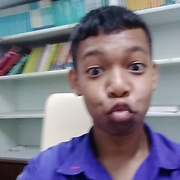 Kraiwich1122
Kraiwich Niamcgaroen, 16 y.o.

Hi I'm Kraiwich Niamcharoen. You can call me Mark. I'm 16 years old. I'm from Thailand. My hobby is listen to music. I want to learn English
- updated May 23
Speaks
Learning
Looking for
Friends
Language practice
Meeting in person
Education
High school
Satriphatthalung school
Relationship status
Single

Joined 2 months ago, profile updated 2 months ago.

You must be
signed in
to view Kraiwich1122's wall.