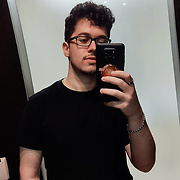 Displaying posts 1 to 9 of 9.

Amado555
29 , Algeciras , Spain

Hola, buenas! Perdon por molestar. Necesito saber donde has comprado esos pantalones tan monos, un besito! :D

Olywaguy
59 , Tupelo , United States

Hola Nadril,
Soy Hondureño pero he vivido en EE.UU. por muchos años. Tomé francés en secundaria y la universidad. Me gustaría practicar un poco.

2rimpa
43 , Tokyo , Japan

Thank you for your message:) I could understand it.
Yes, if I could find the one, I can live with him wherever:)

GEORGE159
27 , Las Vegas , United States

Hola! qué tal! español! ya decía yo que un francés hablante nativo de español estaba medio raro hah. saludos!

Quién? Quieres decir Palestina*, viva Palestina😁❤