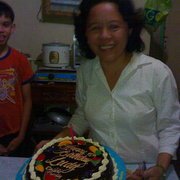 ludymar
ludymar, 54 y.o.


Joined 11 years ago, profile updated 3 months ago.

Displaying posts 1 to 10 of 21.

yuzhichuan0000
27, Shenzhen, China

hi,im sean,ilive in china,i love english,can you help me?

linclinc
62, Nashville, United States

Hi Ludy Thanks for writing me, can you tell me a little about where you live? I would like to get to know you Link

Hello Ludy. Thank you for visiting my profile page. I wish you good health and happiness. Regards, Steve

hey
fun 2 b with sounds good
i have a sarcastic fun humor
u want 2 try it

Good luck with the husband search! You could go to an agency that has men looking for women to marry and leave the Philippines. I believe that you will be more successful with that arrangement than these "InterPals" types of web sites. I will not use a name for these agencies that is not respectful and I believe that you know what name I am thinking of! Regards, Steve

ludymar
54, Cagayan de Oro, Philippines

Oh really? When are you going to visit again here? You just pass by here in the city where I live

Hi,
I often went to CDO and Iligan.
But I didn`t go there for 3years, because my friend moved to Canada now.
God bless you!

ludymar
54, Cagayan de Oro, Philippines

Quite busy with some important thing here

Why are you thinking of leaving the website?