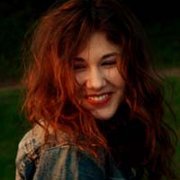 Displaying posts 1 to 10 of 15.

UABlender
25, Lviv, Ukraine

I'm Max. I'm study at Lviv national academy of art,)
It's greate! I like design, can u show me your works?

UABlender
25, Lviv, Ukraine

Hey! :)
Thank vor visit! How are u? :) tell me someting, just few words about u:)

jpschilling31
28, Strasbourg, France

Czesc! Bardzo dobrze a ty! Mowisz po francusku?

I was just telling the truth :)
don't worry I'm not bored anymore, just forgot to update my statue :p

DarkGreenGarnet
28, Chicago, United States

Cześć
Widzę, że mamy wspólne ulubione seriale ;D
dobry początek ;D

well, I'd love to too :D
actually we were planning to go to Woodstock in a town (with a name starting with Pry...) - now I don't really know - probably going on my own for some time off to meet new people in a cool city - any advice? Warsaw?

Oh Poland! I'm planning a trip that way!
So, cookies for French - does that deal still count? (and are handwritten letters about art and design included?)

Hi Malwina, I'm Jaclyn :) I think we should write!

i did i sent it to days ago