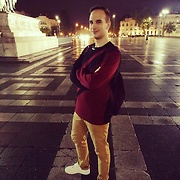 Displaying posts 1 to 10 of 12.

Gattopardo19
40, Cluj-Napoca, Romania

Boldog születésnapot, 2020-ban is

Finally hahhaahh well How are you?? is everything ok


Vihar
31, Budapest, Hungary

Ha egy olyan szép nő motiválna, mint a videóba :D én se a pénzt választanám :D

FallingInSpring
23, Depok, Indonesia

Hi, my name is Fida. I am from Indonesia. Nice to meet u..