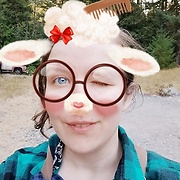 LifeIsArt716
Storm, 26 y.o.

ok so why i haven't been active this time isn't my fault, i swear! the website literally wouldn't let me log in...
- updated Oct 25
Speaks
Occupation
Student and Tutor
Relationship status
In a relationship

Joined 7 years ago, profile updated 2 years ago.

Displaying posts 1 to 2 of 2.

LifeIsArt716
26, Eugene, United States

I do not read my wall. Do not post here

Hello fellow Asexual! I haven't seen many on here.